Available Goldendoodle Puppies
UPDATED Wednesday December 1, 2021

Our Goldendoodles are medium and standard size, we do not have minis.
Current Litters
Ella and Duke's gorgeous litter of F1 standard goldendoodles was born November 16th. We are currently accepting deposits for their litter. These doodle babies will be ready for their new homes Sunday January 9th.

Our Ava had her gorgeous red litter of eight medium F1 goldendoodles on Thanksgiving Day! They'll be ready for Puppy Pick-up Day Wednesday, January 19, 2022!
Ella 's reserve list:

Males:

Ashley & Oscar
Patty and Jack
Brooke and Harrison
available
available

Females:

Bryce and Lindsay
available


"Lincoln" from Ella and Duke

"Somi" from Ella and Duke
| | | |
| --- | --- | --- |
| Ella's Litter | Ella's males | Ella's females |
Ava's reserve list:
Females:

Brittany & Alex
Josh and Nicole
available
available
available


Males:

Cindy Z.
Laura H.
available


"Maia" from Ava and Leo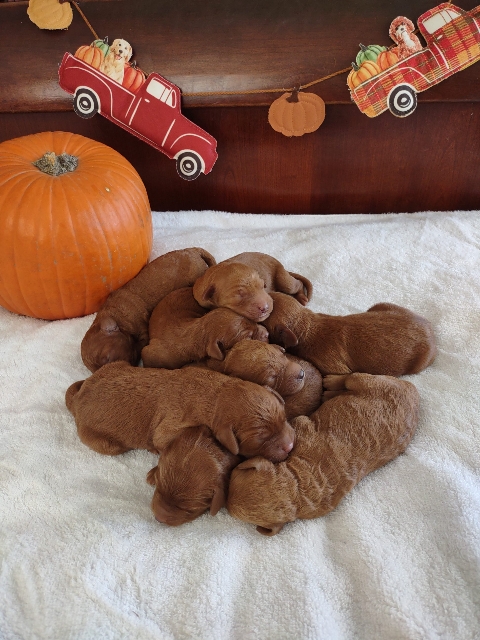 Ava's litter
We have made our website very thorough to answer most questions. Please review our website before contacting us. Thank you.

As a part of my training with CATCH dog trainers academy, I learned proper puppy socialization. Here is a part of our fantastic puppy socialization team at work!
---
For deposit info please visit our Purchase Info page.
Puppy Pick-up and Choosing Your Puppy:
The puppies will be vet-checked before their pick-up days when they leave for their new loving homes. We have appointments throughout the day. When the litter is born, we then set the Puppy Pick-up Day for 8 weeks later. The puppy choosing process is basically a first-come, first-served system, based on when reservation deposits are placed. On occasion, factors may change the order, such as I need to choose a puppy for flying to someone, for its vet certification. If you aren't available to come on the puppy pick-up day, you may come during the following week, but the next people on the list have the right to come ahead of you to choose and pick up their puppy. Occasionally a family can come choose their puppy but needs to pick it up a week later. This is usually fine. If you can not come that week and your puppy needs to stay a longer time, I may feel the need to charge a boarding fee.
Reservation:
To reserve a puppy, we keep emails from the families that contact us, then notify everyone when we've begun accepting deposits for the next litters. Then, we require a phone call with each family at that time before accepting deposits from those who've contacted us. Please review our website before contacting us. Thank you. Because we receive many inquiries, we generally do not return the many phone calls or emails until we actually have puppies available. Thank you for understanding.
Satisfaction:
Our puppies are health guaranteed and we have an excellent track record with our previous customers. Check out our Photos Page to see some cute photos that our previous customers have sent us of their puppies grown up. They sure love them and have tons of fun with them! Be sure to notice the puppy's mother's name below their name to see what your puppy may look like from specific mothers.
Sizes, Colors & Fur type:
The litters will vary in colors and full-grown size. We can not guarantee the size or color that they will become. The color they are now may change slightly as they get older. The goldendoodles' fur will be shaggy/wavy or curly and probably low shedding.
Watch a short video of a previous litter here:
Goldendoodle puppies for sale video
Photos of previous litters: